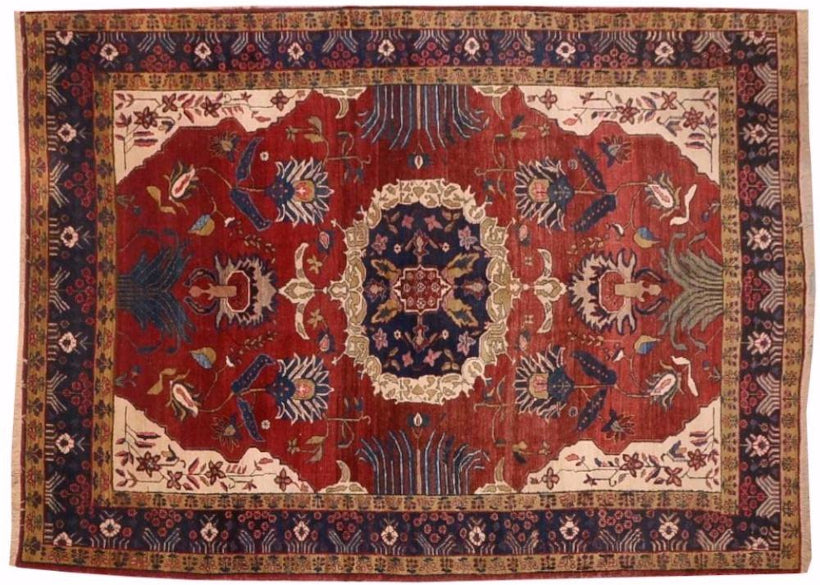 Heriz Antique and Vintage Rugs for sale
Heriz rugs are hand knotted in north eastern Persia in the town of Heriz in a region named Azerbaijan.
Typical design of Heriz rugs is a geometric style with graphic designs. The motives are strongly influenced by near by Caucasian rug designs. 
Colors:
The main color sheme is typical persian: red field and blue border. The field color is found from a light salmon tone to dark brown and blue. Less common are Heriz rugs with all over design and creme field. 
Production:
Heriz rugs are very dense and durable.
They have thick warp strings made of cotton and a wool pile. The knot density is rather low. Heriz rugs are made in the towns of Heriz, Ahar, Gerawan, Ardebil, Karaja, Meraban and Sarab. Rugs with Heriz style are also made in India, Pakistan, Afghanistan, Turkey and Azerbaijan. Most common sizes are 8 x 11 ft, 9 x 12 ft, 10 x 13 ft and runners. Oversized rugs were made at the beginning of the 20th century for western markets. Very fine quality rugs are often called Serapi or Bakhshayesh. 
 Most common sizes are large room size carpets.  8 x 11  ft, 9 x 12 ft, 10 x 14 ft, 11 x 15 ft, 12 x 18 ft. 20 x 16 ft.