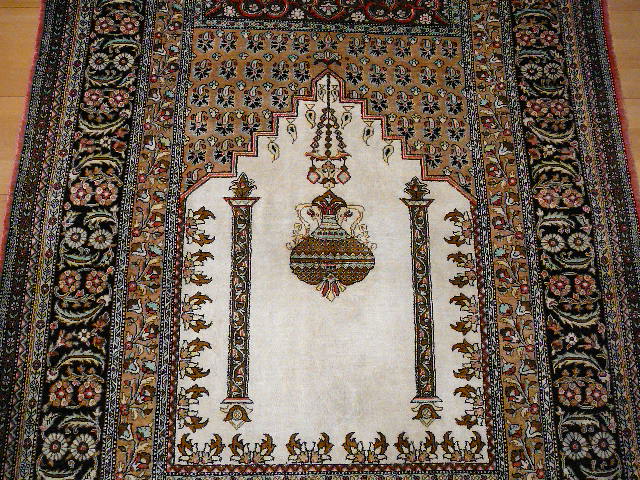 QUM SILK rugs - GHOM carpets

Qum rugs are among the finest hand knotted rugs made.
Pure silk rugs from Qom can be as fine as 1200 knots per square inch.
The designs are various such as Tree of Life, Hunting Carpet, Medaillon floral rug or Prayer rug design.
Qom (also Qum, Ghom) is a city in central Iran, about 130 km south of the capital Tehran. The city is known as the seat of Islamic theological college and a place of pilgrimage. The sister of the eighth Imam (Ali ibn Musa ar-Rida / Imam Reza), Fatima bint Musa, died in 817 in Qum and was buried there. The graves impressive golden dome was built in 1600, which is one of the landmarks of Qom. Qom is no city with very old weaving tradition. In the 1930`er carpet producers from nearby city of Kashan began establishing a production in Qom. Due to the increased global demand for Persian rugs, existing weaving centers could no longer produce enough. Consequently, therefore, new production facilities have been established. To date, design elements from Kashan are found, especially in the border or in the way that certain flowers are tied. But anyway carpets from Qum today have a distinctive appearance. Typical is a lush floral design, often created in medallion design. Most carpets are knotted in the formats 3 x 2 ft, 4 x 3 ft, 5 x 3 ft cm, 5 x 7 ft and runners and gallery size. Qum rugs made of silk and often high-priced. Designs: Floral, usually with a medallion. Very detailed work. Likewise, common patterns are prayer rugs with a dome and arborvitae, hunting motifs, Figural carpets and pictures.